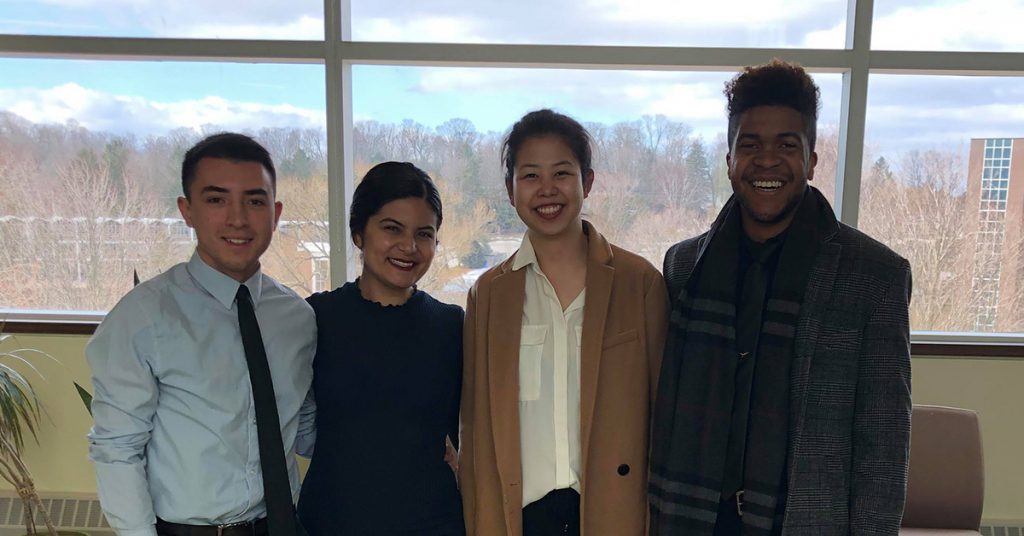 University of Waterloo students (L-R): Santiago Gordillo, Alessandra Bishai, Jennifer Park, and Nicholas Frankson
Landrum & Brown (L&B), a global aviation planning and development consultancy, recently collaborated with the University of Waterloo in Ontario, Canada, on a design project for the Fundamentals of Aviation Sustainability class. L&B created aviation sustainability problem statements for students to solve and judged the final presentations.
University of Waterloo students Santiago Gordillo, Alessandra Bishai, Jennifer Park, and Nicholas Frankson, along with L&B's Sara Christen-Hassert, Senior Managing Consultant, worked with Associate Professor Suzanne Kearns, PhD, to develop real-world sustainability challenges from airport operations. Three problem statements were created:
How does the EONS approach (economic benefits, operational efficiency, natural environment and social responsibility) better serve the aviation environment than the traditional approach (social, economic and environmental)?
Why are airports important to sustainable cities and what benefits do they bring?
Airports are often perceived as being responsible for noise and air pollution, as a result of aircraft operations.While airports cannot mandate the type of aircraft that airlines operate, or the type of fuels used (sustainable aviation biofuels, for example), what are some actions that an airport can take to assist airlines in reduce aircraft noise levels and emissions that occur at an airport?
After exploring new sustainability approaches throughout the semester, the student groups presented their solutions to a panel of L&B judges including Sarah Contreras, Managing Consultant; Cody Meyer, Senior Consultant; and Elizabet Iontcheva, Analyst.
The winning group presented on the analysis of airports and sustainable cities. The team suggested a holistic approach to developing airports that serve cities as part of a sustainable future, including the consideration of airports as:
Multi-functional environments to enhance mass transportation connectivity and access to public resources
Strong proponents of energy-efficiency management strategies, and developers/users of renewable energies
Economic engines that drive a city's direct, indirect, and induced economic benefits.
L&B awarded the team with registrations to the 2019 Airports Going Green conference to be held in Chicago this November. Gordillo, Bishai, Park, and Frankson expressed their gratitude in the following joint statement: "The size of the global aviation industry means that it affects millions of lives everyday. The continued growth of this sector with a focus on sustainability of airports and other areas of the industry is increasingly important. The work we have done in this course with the excellent guidance of Dr. Suzanne Kearns has shown us that it takes contributions and innovative approaches from every part of the industry to ensure positive, beneficial and sustainable growth for the future. We'd also like to thank those at Landrum & Brown that provided us with the basis to start our project and the opportunity to present our ideas on sustainability in aviation." Kearns adds, "Thank you [L&B] so much to you and your colleagues for supporting this project – it really is tremendously meaningful and supportive of their learning."
About L&B: L&B is a privately owned global consultancy dedicated solely to the needs of the commercial aviation community. The firm's mission is to provide clients with an unmatched level of service and advice across the full range of aviation planning and development disciplines. With a long and proven history, L&B's combination of experience, collaboration, and innovation is helping to shape the future of aviation.
Contact:
Sara Christen-Hassert
Senior Managing Consultant
Sara.Christen@landrumbrown.com
M: +1 773 457 1000