Landrum & Brown is at the Leading Edge of Airport Sustainability Planning and Implementation in Chicago
L&B is proud to have led the sustainability initiatives of the Chicago Department of Aviation (CDA) since 2003. The CDA's industry-leading Sustainable Airport Manual (SAM) is the first of its kind in the U.S., offering airport-specific sustainability guidance to all airport design and construction projects, as well as operations and maintenance activities, for CDA's facilities at both O'Hare and Midway International Airports, and for all of CDA's concessionaires and tenants.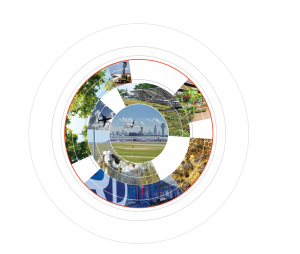 The SAM was developed with input from over 200 stakeholders representing airports, airlines, government agencies, the sustainability industry, and community groups. The SAM is endorsed by the U.S. Green Building Council (USGBC), the Federal Aviation Administration (FAA), and the U.S. Environmental Protection Agency (USEPA).
The SAM is the foundation for the CDA's Sustainability Program, which includes many accomplishments:
1st airport-specific sustainability guidance in the U.S.
1st airport rating system for sustainability projects, with 291 Projects reviewed and rated to-date
1st FAA ATCTs with Green Roofs
1st Apiary at U.S. Airport
1st permanent Grazing Herd at a U.S. Airport
Most Green Roofs at an Airport (17 at O'Hare)
Green Concessions Policy
Aeroponic Garden
450+ acres of Wetland Mitigation
Annual Airports Going Green Conference – the aviation industry's leading forum on sustainability
The CDA recently announced the $8.5 billion O'Hare 21 development program, which includes terminal redevelopment and other capital program at Chicago O'Hare International Airport. CDA updated SAM earlier this year to enhance the focus on sustainability strategies for terminal space, and to enhance the passenger experience. SAM will continue to be incorporated into all O'Hare 21 design, construction, operations, and maintenance projects for CDA facilities and for concessionaires and tenants.
L&B has been responsible for SAM development, updates, implementation, tracking, and project reviews/ratings on CDA's behalf.