Landrum & Brown Provides Insights and Expertise in Industry Publication Passenger Terminal World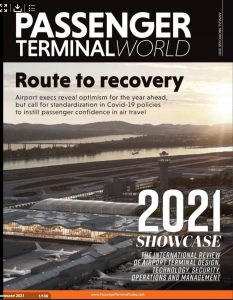 Our industry leadership over the past 40 years means we know airports. We're always happy to provide insight to help others understand the ins and outs of evolving trends and innovation. We recently had the opportunity to contribute to two articles in one of our favorite publications, Passenger Terminal World. We've provided a brief summary of each with links to the full articles.
Happy Journeys Article
In the article Happy Journeys pages 46-47, Landrum & Brown VP of terminal planning Joe Borden in collaboration with Ibrahim Ibrahim, managing director at Portland Design, a global leader in defining customer experience for airports, outlined thee important customer types emerging post-Covid-19 and what airports can do to meet their needs. The three types are:
The Camper
The Roamer
The Explorer
In addition to the specific behavior shifts, the article highlights the overall acceleration of wellness trends for all passengers, as well as the role of technology to meet needs across the spectrum of behaviors.
Read the full article: Happy Journeys
The Year Ahead Article
Our own Clint Laaser, associate vice president, terminal planner and registered aviation architect, NCARB, LEED AP, was among the "seven leading architects [to] share their visions for the future of airport design and passenger processing in 2021 and beyond. Quoted throughout The Year Ahead on pages 12-18, Laaser reflects on various changes in response to the pandemic, including:
Greater design emphasis on areas that may have been overlooked previously, like restrooms: "Newer restrooms include larger circulation areas, touchless equipment, the inclusion of natural daylight and easy to clean materials to enhance the passenger experience."
Increasing use of mobile technology and the evolution of the check-in area: "[The changes] will influence terminal planning and design by creation of a more flexible, compact check-in hall, helping to minimize walking distances and eliminate wasted space."
Reconsidering the sustainability of airport operations: "A central receiving and distribution center that reduces the overall amount of delivery truck traffic on surrounding airport roadways and curb fronts… to reduce emissions from idling and recirculation as they wait for an available loading dock.
Additional focus on better air quality: "Reevaluate the quality of the air-handling systems, including potential of air purification and better circulation… to provide a healthier environment in the future and may help decrease airport operation budgets with enhanced systems in place."
Read the full Passenger Terminal World article: The Year Ahead
Passenger Terminal World: 2021 Showcase
As always, the Passenger Terminal World Annual Showcase is chock full of valuable information and insights. You can read the full issue here, and please follow the Landrum & Brown LinkedIn page for more updates from us!!