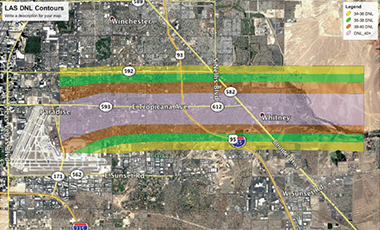 Preliminary helicopter-only noise exposure bands in vicinity of helicopter flight tracks at LAS.
In a recent Airport Cooperative Research Program (ACRP) study titled "Assessing Community Annoyance of Helicopter Noise," Vincent Mestre, lead author and Associate Vice President of global aviation planning and development consultancy Landrum & Brown (L&B), describes a research protocol for conducting a large-scale community survey to quantify annoyance due to civil helicopter noise.
The research team — which included Sanford Fidell, Richard D. Horonjeff, Paul Schomer and Aaron Hastings of Volpe National Transportation Systems Center of USCOT; Barbara G. Tabachnick of California State University, Northridge; and Fredric A. Schmiz — began with a review of technical literature from which they developed a set of hypotheses.
The research protocol to test the hypotheses included a large-scale social survey, noise monitoring and noise modeling. Nearly 2,300 respondents participated in telephone surveys in Long Beach, California; Las Vegas, Nevada; and Washington, D.C.
The results validated the protocol and helped improve understanding of the roles of acoustic and non-acoustic factors that influence community annoyance to civil helicopter noise. However, it did not conclusively identify any notable difference between community annoyance with light civil helicopter noise and fixed-wing aircraft noise at comparable sound exposure levels (this may not be true for heavy military helicopters). Nor could it conclusively identify any non-acoustic factors that might affect an individual's perception of helicopter noise.
Mestre explains a likely reason for the absence of evidence is that the interview sites had relatively low levels of helicopter noise exposure. Sites with greater levels of civil helicopter noise exposure could not be located for the study, or were unsuitable for interviewing for lack of residential exposure.
Proximity to the flight path was a good predictor of annoyance with helicopter noise, but it remains unclear if exposure from direct overflights is more annoying than overflights that pass to the sides of residents' homes.
Click here to download "Assessing Community Annoyance of Helicopter Noise."
About the ACRP:
The ACRP is an applied research program that develops practical solutions to problems faced by airport operators. It is managed by the Transportation Research Board of the National Academies of Sciences, Engineering, and Medicine and is sponsored by the Federal Aviation Administration.
About L&B:
L&B is a privately owned global consultancy dedicated solely to the needs of the commercial aviation community. Our mission is to provide our clients with an unmatched level of service and advice across the full range of aviation planning and development disciplines. With a long and proven history, our combination of experience, collaboration and innovation are helping to shape the future of aviation.
Contact:
Vince Mestre, Associate Vice President
M: +1 949 349 0671
E: Vincent.Mestre@landrumbrown.com
19700 Fairchild Road, Suite 230
Irvine, CA 92612
USA