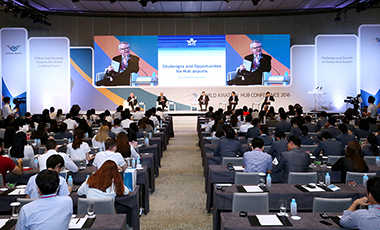 Gary Gibb, L&B President Asia Pacific, moderates a panel titled "Global Hub Airport's Challenges and Growth Opportunities" at the WAHC 2016.
By invitation of Incheon International Airport, Gary Gibb, L&B President Asia Pacific, was a panel moderator at the World Aviation Hub Conference 2016 conference in Seoul, South Korea, on June 29, 2016.
The panel featured representatives from Incheon International Airport, Copenhagen Airport and Seoul National University.
Highlights of the session included discussion on:
The future of passenger processing shaped by mobile technology and process automation.
Innovation through the use of Artificial intelligence to improve operational efficiency and passenger flow.
Increasing airport capacity – capacity planning at the world's biggest airports.
About L&B:
L&B is the oldest and most innovative privately owned consultancy dedicated solely to the needs of the commercial aviation community, focusing on solutions for the world's busiest and most challenging airports. Our focus on the highly specialized issues of the global aviation industry provides our clients with a level of expertise and vision that cannot be matched by our competitors. Through experience and innovation, our ideas are shaping the future of aviation.
Contact:
Gary Gibb, President Asia Pacific
P: +61 3 9639 7744
F: +61 3 9663 7884
E: Gary.Gibb@landrumbrown.com