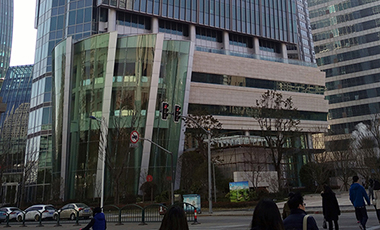 Lilacs International Commercial Centre
In order to better support a growing list of clients in Greater China and Asia, Landrum & Brown (L&B), a global leader in airport and aviation planning, relocated its office in Shanghai, China, to the Lilacs International Commercial Centre in the Pudong District on March 15, 2016.
The new office will facilitate additional capabilities; improve the working environment; and present new career opportunities to support growth efforts. L&B anticipates hiring several new positons in airport planning, architecture and forecasting.
"L&B is heavily invested in China and sees a tremendous opportunity to grow its customer base. Relocating to a larger office will enable us to more efficiently serve our existing valued clients and demonstrates our continued commitment to delivering leading edge aviation planning services to the Asia-Pacific region," says Qianlin Li, Vice President of L&B and General Manager of the Shanghai office.
L&B entered the Chinese mainland market in 2002-03, while participating in the International Solicitation for the Beijing Capital International Airport Master Planning and finishing second in the Terminal 3 Planning and Design Scheme under the leadership of Jeffrey Thomas, the firm's Chief Executive Officer. Subsequently, in 2004 an L&B consortium won the International Solicitation for Shanghai Pudong International Airport Terminal Area Master Plan and Terminal 2 Conceptual Design. Due to its growing success, L&B strategically opened its first office in Shanghai in 2005. Since, L&B's portfolio has grown to include over 25 airports in Greater China.
Thomas continues to be actively engaged in the delivery of client services and the growth of L&B in the Chinese market, ably assisted by Li; Senior Managing Consultants Huan Luo, Xiang Huang, Jay Wang and Peter Jolicoeur; staff in the USA and Australia; and its growing Shanghai- and Hong Kong-based staff. Gary Gibb, the President of L&B's Asia-Pacific Division, oversees the firm's operations throughout Australia, Southeast Asia, Africa and Europe from an office in Melbourne. Additional offices that serve clients in the Asia-Pacific region are located in Hong Kong, Bangkok, Kuala Lumpur, Mumbai, Delhi, Dubai, Jeddah and London.
About L&B:
L&B is the oldest and most innovative privately owned consultancy dedicated solely to the needs of the commercial aviation community, focusing on solutions for the world's busiest and most challenging airports. Our focus on the highly specialized issues of the global aviation industry provides our clients with a level of expertise and vision that cannot be matched by our competitors. Through experience and innovation, our ideas are shaping the future of aviation.
New Shanghai Office Address:
Room 1904, West Tower
Lilacs International Commercial Centre
No. 1299 Minsheng Road, Pudong District, Shanghai 200135
Shanghai Office Phone Number:
+86 21.3392.6560
Contact:
Huan Luo, Senior Managing Consultant
P: +86 21.3392.6560 Ex:301
C: +86 137.6108.6013
E: Huan.Luo@landrumbrown.com
Qianlin Li, Vice President
P: +1 513.530.1230
C: +1 513.617.2007
E: QLi@landrum-brown.com