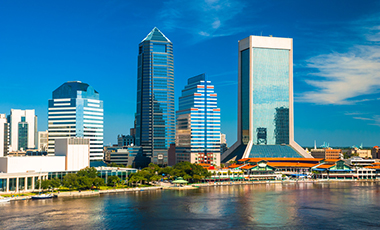 L&B relocated its Jacksonville office to the top floor of the Bank of America tower.
Landrum & Brown (L&B), a global aviation planning and development consultancy, relocated its Jacksonville, Florida, office from the historic Porter Mansion to the top floor of the Bank of America tower in downtown Jacksonville on May 13, 2018.
The new space includes 13,000 square feet and will allow room for growth and expanded services. The floorplan includes two large open work areas, offices, and a large area for the kitchen and social uses. There will also be new technology upgrades and cosmetic updates such as painting and carpeting.
"It's a great workplace for our people. Architects and planners are very creative people. They need space that is inspiring to them," stated Tom Rensing, AIA, IIDA, Vice President.
"We will be continuing to grow L&B's presence in Jacksonville," Rensing added.
Additional L&B locations in Florida include Miami, Orlando, and Tampa.
About L&B:
L&B is a privately owned global consultancy dedicated solely to the needs of the commercial aviation community. The firm's mission is to provide clients with an unmatched level of service and advice across the full range of aviation planning and development disciplines. With a long and proven history, L&B's combination of experience, collaboration, and innovation is helping to shape the future of aviation.
Contact:
Tom Rensing, AIA, IIDA | Vice President
T: +1 904 361 5130
Tom.Rensing@landrumbrown.com
Address:
50 N. Laura Street
Suite 4200
Jacksonville, Florida  32202