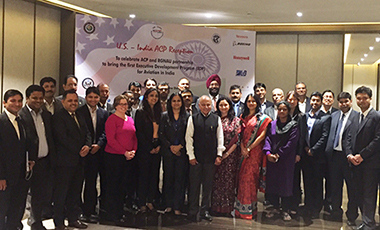 The Executive Development Programme in Aviation Management was the first programme offered by RGNAU and the first of its kind in India.
The U.S.-India Aviation Cooperation Program and the recently established Rajiv Gandhi National Aviation University (RGNAU) partnered to launch the first Executive Development Programme in Aviation Management for senior industry leaders. This was the first programme offered by RGNAU and the first of its kind in India. It was held immediately after the university inauguration on Feb. 2-4, 2017, at the Roseate House in New Delhi, India.
There were nine speakers slated for the event, two of which were from the global aviation planning and development consultancy Landrum & Brown (L&B)–Celia Fremberg, Associate Vice President, and Sara Christen-Hassert, Managing Consultant. Fremberg is responsible for managing air traffic management and airport related projects in the Asia Pacific region, in addition to providing technical assistance to international aviation programs, the U.S. Federal Aviation Administration and the Joint Planning and Development Office. Christen-Hassert, a certified LEED Green Associate, leads the strategic environmental and sustainability planning for airports and has experience in project planning at some of the world's busiest airports. Together, Fremberg and Christen-Hassert led two of the six sessions during the three-day programme.
Fremberg led their first session, titled, "Airport Planning," and covered a wide breadth of airport planning and development topics, including planning management, vision foundation, concept development, master plan development, terminal planning, airfield and airspace planning and air cargo planning. Christen-Hassert discussed sustainability planning and environmental management.
During their second session, "Sustainability in Aviation," Christen-Hassert presented several case studies that described key factors for sustainable aviation planning and management. The case studies included the U.S. Chicago Department of Aviation: Sustainable Airport Manual; ACP-China: Energy Conservation and Emissions Reduction (ECER) strategies for airports, airlines, and air traffic management; Aviation Cooperative Research Program (ACRP) Report 80: Integrating Sustainability into Traditional Airport Projects; and India's Leading Sustainable Airports.
"L&B was honored to be a part of this program where the entire aviation community–airports, air traffic, airlines and research entities–came together to discuss the latest on airport planning, airlines and air traffic modernization. Having all the stakeholders involved in the learning process provided a great platform for participants to understand each other's perspectives and come up with very innovative ideas to lead the way in creating a safe and seamless aviation system in India," says Fremberg.
Christen-Hassert adds, "We were excited to be a part of this ground-breaking program and to have the opportunity to learn from India's aviation leaders, while also sharing our experience at airports around the world."
L&B has proudly served each of the top four airports in India–Indira Gandhi International Airport, Kempegowda International Airport, Rajiv Gandhi International Airport and Chhatrapati Shivaji International Airport–and several smaller, non-metro airports.
About L&B:
L&B is the oldest and most innovative privately owned consultancy dedicated solely to the needs of the commercial aviation community, focusing on solutions for the world's busiest and most challenging airports. Our focus on the highly specialized issues of the global aviation industry provides our clients with a level of expertise and vision that cannot be matched. Through experience and innovation, our ideas are shaping the future of aviation.
Contact:
Celia Fremberg, Associate Vice President
C: +1 703.408.5297
E: CFremberg@landrum-brown.com
Sara Christen-Hassert, Managing Consultant
C: +1 773.457.1000
E: Sara.Christen@landrumbrown.com
Debayan Sen, Associate Director – India
India: +91 981 994 2721
US: +1 513 417 4278
E: Debayan.Sen@landrumbrown.com