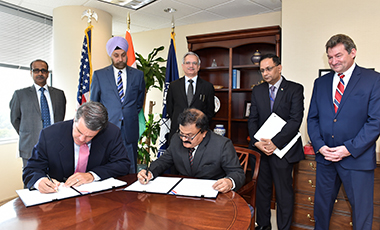 USTDA Acting Director Thomas R. Hardy (seated, left) and Airport Authority of India Chairman Guruprasad Mohapatra (seated, right) signed the grant on Sept. 11, 2017. (Photo: Bill Petros Photography)
The Airport Authority of India (AAI) has officially selected Landrum & Brown (L&B), a global aviation planning and development consultancy, to prepare the Sustainability Master Plan for Kolkata and Lucknow International Airports.
The U.S. Trade and Development Agency (USTDA) signed the grant with AAI supporting the twenty-year master plan on Sept. 11, 2017.
"We are pleased to support this important project that will support India's rapid aviation growth, while connecting U.S. businesses with new export opportunities," said Thomas R. Hardy, USTDA's Acting Director.
The Sustainability Master Plan will provide AAI with a roadmap for the development and expansion of its two fastest growing airports to accommodate the anticipated increase in demand while incorporating sustainable and environmental best practices.
"L&B is very happy to have been selected to support the USTDA and the Airports Authority of India with this important project that will continue to expand on the great relationship the United States and India share in the aviation industry," said Mark Perryman, CEO of L&B.  "We look forward to the opportunity to assist AAI in developing their long-term modernization plans for Kolkata and Lucknow International Airports bringing the best in class ideas and technologies to solve complex issues at these vital transportation hubs."
As the world's ninth largest aviation market, India's civil aviation sector is on a high growth trajectory, poised to be the third largest national market by 2020 and, potentially, the largest by 2030. This project will advance India's priorities of expanding capacity at two of the busiest airports in the country.
The USTDA has supported several similar activities supporting India's growing aviation market through the U.S.-India Aviation Cooperation Program (ACP), a public-private partnership between the U.S. Federal Aviation Administration (FAA), the USTDA, other U.S. government agencies and U.S. companies. The ACP works directly with the Government of India to identify and execute projects in the civil aerospace sector that encourage collaborations between U.S. and Indian stakeholders.
About L&B:
L&B is a privately owned global consultancy dedicated solely to the needs of the commercial aviation community.  The firm's mission is to provide clients with an unmatched level of service and advice across the full range of aviation planning and development disciplines.  With a long and proven history, L&B's combination of experience, collaboration, and innovation is helping to shape the future of aviation.
Contact:
Mark Perryman, CEO
T: +1 513 530 5333
E: Mark.Perryman@landrumbrown.com