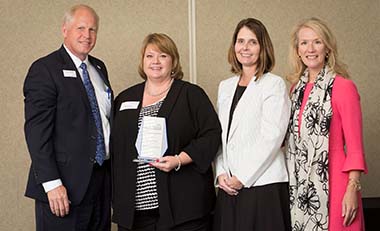 John Bosse, Vice President, Membership Development (left), and Jill P. Meyer, President & Chief Executive Officer (right), of the Cincinnati USA Regional Chamber, presented Monica Geygen (center left) and Amy Konow (center right) of Landrum & Brown with the esteemed Blue Ash Advance Award for contributions to the aviation industry and the City of Blue Ash.
Landrum & Brown (L&B), a global aviation planning and development consultancy, won the Blue Ash Advance Award for its significant accomplishments resulting in major advances for the aviation industry and the City of Blue Ash. The Blue Ash Business Committee and Cincinnati USA Regional Chamber presented L&B with the award at the Blue Ash Business Awards Reception on June 4, 2018.
Attending the awards reception on behalf of L&B were Monica Geygan, Associate Vice President – Master Planning, and Amy Konow, Vice President of Accounting & Finance. Both were honored to represent the company for this achievement.
"Winning this award illustrates the impact that our company has had on the aviation industry and represents the value we bring not only to the industry, but to a thriving Blue Ash business community," says Konow, a newcomer to L&B.
Geygan, who has been with L&B for over 20 years, says, "Having the opportunity to accept the 2018 Blue Ash Advance Award on behalf of L&B was a truly one of the most awarding experiences I've had during my career.  We are very thankful for being recognized by the Blue Ash Business Community & Cincinnati Chamber and look forward to many more years accomplishing significant advances in the aviation industry."
L&B, founded in 1949, moved its corporate headquarters from downtown Cincinnati to Blue Ash in 1987. This coming fall, the company will make a new home in Blue Ash on the seventh floor of the Lake Forest building. The new headquarters is located across from Summit Park – a 130-acre world-class park project in the heart of Blue Ash, fittingly, at the old Blue Ash Airport site.
"The City of Blue Ash has been a great home for Landrum & Brown for over 30 years," says Mark Perryman, L&B's Chief Executive Officer. "We are excited to move into our new offices across from Summit Park and continue to be a part of the vibrant business community in Blue Ash."
Link: L&B video presented at the Blue Ash Business Awards Reception
About L&B:
L&B is a privately owned global consultancy dedicated solely to the needs of the commercial aviation community. The firm's mission is to provide clients with an unmatched level of service and advice across the full range of aviation planning and development disciplines. With a long and proven history, L&B's combination of experience, collaboration, and innovation is helping to shape the future of aviation.
Contact:
Mark Perryman, CEO
C: +1 513 530 1235
E: Mark.Perryman@landrumbrown.com 
11279 Cornell Park Dr.
Cincinnati, OH 45242