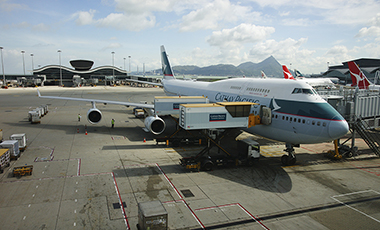 Hong Kong International Airport
Landrum & Brown (L&B), the oldest privately owned consultancy dedicated solely to the needs of the commercial aviation community, has been awarded a two-year, $2.3 million contract by the Airport Authority Hong Kong to undertake the Master Plan 2035 – Aerotropolis, Strategic Studies and Final Report Compilation at Hong Kong International Airport (HKIA).
As a global leader in airport and aviation planning, this is the second HKIA master planning contract for which L&B is the lead technical consultant, and the first for which L&B is the contractual prime consultant. In 2009, L&B participated in the Airport Master Plan 2030 Study to identify all the facilities required to support the air traffic forecast demand up to the year 2030 and the ultimate capacity of the airport that can be achieved with a three-runway system.
The Master Plan 2035 will complement the decisions flowing from the previous Master Plan: to construct a third runway and associated facilities to meet growing air traffic demand, by identifying the opportunities for HKIA to grow as a leading global 'aerotropolis' and optimize its ability to serve a wide range of aviation markets and commercial stakeholders.
This highly demanding tendering process qualified only a short list of competitors from among the world's strongest and largest multi-disciplinary engineering and planning firms. Sheila Thomas, L&B Principal and project team leader, maintains that the fact that the L&B team has been selected, from such a strong field of competitors, reflects both the quality of their submission as well as the excellent reputation and track record of each member of the project team.
Sub-consultants on the contract include Urbis, Waters Economics, MVA Asia, Knight Frank, CAPA Consulting and Meinhardt.
About L&B:
L&B is the oldest and most innovative privately owned consultancy dedicated solely to the needs of the commercial aviation community, focusing on solutions for the world's busiest and most challenging airports. Our focus on the highly specialized issues of the global aviation industry provides our clients with a level of expertise and vision that cannot be matched. Through experience and innovation, our ideas are shaping the future of aviation.