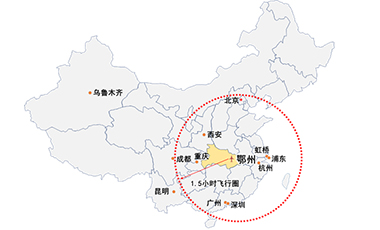 Through Ezhou airport and its future network, SF Express will have 1.5 hours of flight coverage to most domestic locations.
In teaming with Central-South Architecture Design Institute (CSADI), Vanderlande and China Academy of Building Research, Landrum & Brown (L&B), a global aviation planning and development consultancy, won the SF Express Air Mega Hub / Hubei Ezhou Express Airport Development Scheme International Competition.
This is a unique and challenging project in the modern Chinese aviation industry. The goal of SF Express, the leading express airline of China, is to re-establish its business profile to create the timely product strategy of "Next Morning Delivery" through Ezhou airport and its future network, a greenfield airport located in geographic center of China ensuring 1.5 hours of flight coverage to most domestic destinations.
This airport is projected to grow from an estimated 2.7 million tons of cargo in 2025 to 7.7 million tons by 2045 and is expected to be one of world's top busiest cargo airports. The SF Express Air Mega Hub terminal is estimated to be 680,000 square meters in the near term and 1.17 million square meters in the long term.
The greatest challenge is to efficiently integrate the airfield runway/taxiway alignment, gate layout, air hub terminal configuration, automatic sortation system concept and ground express handling chain to achieve the best time efficiency in serving the timely product, as well as best flexibility for future market demand.
L&B is responsible for the airfield master plan, air mega hub terminal configuration, gate programming and layout. Given the nature of this project that represents the leading reformation of Chinese express delivery industry, exploration and renovation was highlighted in combining UPS Louisville and FedEx Memphis models.
Since the October 2016 kickoff, L&B's Shanghai office accomplished tremendous efforts, including numerous internal technical workshops and the development of over 20 scheme options. The winning scheme had the most efficient all-life operation cycle time and cost, the top two features desired by SF Express.
About L&B:
L&B is a privately owned global consultancy dedicated solely to the needs of the commercial aviation community. Our mission is to provide our clients with an unmatched level of service and advice across the full range of aviation planning and development disciplines. With a long and proven history, our combination of experience, collaboration and innovation are helping to shape the future of aviation.
Contact:
Clare Zhang, Senior Project Administrator
T: +86 21 3392 6560 x101
E: Clare.Zhang@landrumbrown.com
No. 1299 Minsheng Road, Suite 1904 West Tower
Pudong New District, Shanghai, China 200135