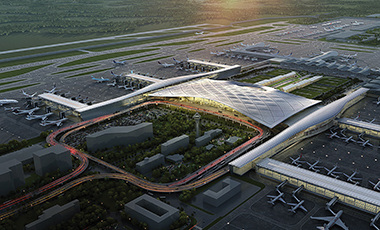 Hangzhou Xiaoshan International Airport
In teaming with the East China Architectural Design & Research Institute (ECADI) and the Zhejiang Provincial Institute of Architectural Design & Research (ZIAD), Landrum & Brown (L&B), a global aviation planning and development consultancy, won the Hangzhou Xiaoshan International Airport (HGH) new terminal design competition.
In 2016, Hangzhou Xiaoshan International Airport handled more than 31 million annual passengers (MAP), which ranked 10th in terms of passenger traffic in China.
The new terminal, designed to serve more than 35 MAP, includes a 470,000 square meter central terminal with northern and southern concourses. The airport will phase in the five concourses as it continues to grow.
All international traffic will relocate to the new terminal, and two of the northern concourses feature swing gates to support growth in international passenger volume up to 14 MAP.
The plan provides for an ultimate terminal-area capacity of more than 70 MAP, together with the existing terminals, and is now under study to reach up to 90 MAP.
A centralized ground transportation center (GTC) will be built between the new terminal and existing terminals. The GTC will include the Hangzhou Metro currently under construction, reserve area for two future metro lines, an intercity rail line, an Automated People Mover (APM) train, bus services, car parking, commercial areas and a hotel.
The inspiration for the terminal's architectural design is Hangzhou's famous West Lake, with interior columns that resemble the stems of lotus flowers floating on water.
About L&B:
L&B is a privately owned global consultancy dedicated solely to the needs of the commercial aviation community. Our mission is to provide our clients with an unmatched level of service and advice across the full range of aviation planning and development disciplines. With a long and proven history, our combination of experience, collaboration and innovation are helping to shape the future of aviation.
Contact:
Clare Zhang, Senior Project Administrator
E: Clare.Zhang@landrumbrown.com
T: +86 21 3392 6560 x101
No. 1299 Minsheng Road, Suite 1904 West Tower
Pudong New District, Shanghai, China 200135