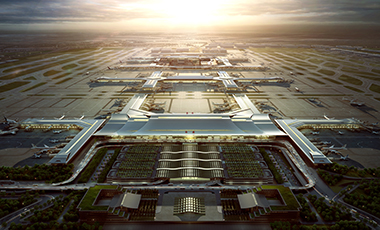 Xi'an Xianyang International Airport
A design team led by Landrum & Brown (L&B), a global leader in aviation planning and development, has been officially selected as the competition winner for the Xi'an Xianyang International Airport's new East Terminal/Ground Transport Centre (GTC) in the historic city of Xi'an, China. The 700,000 square meters of new terminal and 400,000 square meters of related GTC encompass more than 1.1 million square meters of floor area.
The competition entry against other international consortiums was a global effort led by L&B's China office and supported by Chinese partners and L&B architectural design staff from studios in Australia and the USA. L&B will provide the ongoing leadership of the architectural design services for this major program supported by other team members including North West Design Institute, Chinese Architectural Design Institute and other specialists.
As the eighth busiest airport in China, Xi'an Xianyang International Airport handled 37 million annual passengers (MAP) in 2016 through its existing terminals. At the completion of the next phase of development, the airport will have four parallel runways and the East Terminal will handle 40 MAP. Ultimately, the airport is projected to serve 120 MAP with a five-runway system.
In announcing the selection, the judges commented that L&B's entry was "a most balanced, comprehensive, compatible and flexible scheme."
Xiang Huang, Associate Vice President of L&B, commented, "I believe this competition success and the ongoing design role is further acknowledgement of the value that clients see in harnessing our specialist integrated skills across airport planning and terminal design and I am immensely proud of the achievement of our team."
About L&B:
L&B is a privately owned global consultancy dedicated solely to the needs of the commercial aviation community. Our mission is to provide our clients with an unmatched level of service and advice across the full range of aviation planning and development disciplines. With a long and proven history, our combination of experience, collaboration and innovation are helping to shape the future of aviation.
Contact:
Clare Zhang, Senior Project Administrator
T: +86 21 33926560
E: Clare.Zhang@landrumbrown.com
No. 1299 Minsheng Road, Suite 1904 West Tower
Pudong New District Shanghai, CHINA 200135
T: +86 21 3392.6560 x101 | F: +86 21 6854.7540