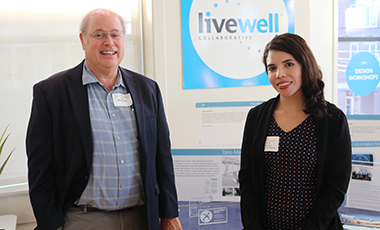 Matt Lee, Vice President, awarded the 2017-18 Jeffrey N. Thomas "In the Arena" Scholarship to Adriana Navarro-Sainz at the 10th Anniversary of the Live Well Collaborative.
Landrum & Brown (L&B), a global aviation planning and development consultancy, has selected Adriana Navarro-Sainz as the 2017-18 Jeffrey N. Thomas "In the Arena" Scholarship recipient.
Originally from Guadalajara, Mexico, Navarro-Sainz moved to Cincinnati to study interaction design in the Master of Design program at the University of Cincinnati (UC) College of Design, Architecture, Art, and Planning (DAAP). She received a Bachelor of Fine Arts with a concentration in graphic design from the Western Institute of Technology and Higher Education in Guadalajara in 2011 and a Graduate Certificate in Digital Arts and Design from Concordia University in Montreal, Canada, in 2016.
The opportunity to travel for her education has broadened her mind and increased her interest in the aviation industry.
"Traveling has not only taught me countless lessons on an array of topics, but also has inspired me to improve the aviation industry through interactive systems that promote a safer and more enjoyable travel experience," says Navarro-Sainz.
Due to her interest in the development of user interfaces and data visualization for the aviation industry, Navarro-Sainz worked on a project with Boeing and Delta in the Live Well Collaborative, a non-profit organization where industry leaders and UC students and faculty form multidisciplinary teams to develop innovative solutions for design projects.
"After visiting the airport and having really insightful conversations with the Delta crew, we found that the staff was having trouble communicating with other teams on ground, passengers and even flight attendants in-flight," says Navarro-Sainz.
To address this challenge, Navarro-Sainz and her classmates developed an interactive, in-flight system that allowed the Delta crew to organize, manage and communicate better.
"I was able to connect my travel experiences to the design process and that helped me better understand the needs of the system from a passenger standpoint," says Navarro-Sainz.
Navarro-Sainz says that the scholarship would not only support her for the spring semester, but also would support her dreams and plans as a young and energetic design researcher.
L&B established the scholarship in 2013 to mark the 45th anniversary of Jeffrey Thomas, the former CEO of L&B and an alumnus of UC, and to support students interested in a career in the aviation industry.
About L&B:
L&B is a privately owned global consultancy dedicated solely to the needs of the commercial aviation community. The firm's mission is to provide clients with an unmatched level of service and advice across the full range of aviation planning and development disciplines. With a long and proven history, L&B's combination of experience, collaboration, and innovation is helping to shape the future of aviation.