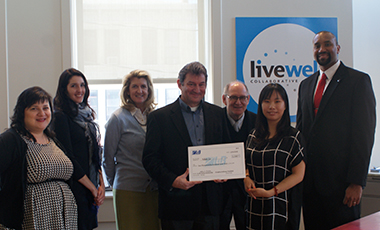 Cynthia Vandewall, Boeing; Melanie Cannon, L&B; Linda Dunseath, Live Well Collaborative; Mark Perryman, L&B; Craig Vogel, MID, UC DAAP; Yilin Li; and Nicholas Stafford, UC Foundation
Landrum & Brown (L&B), a global leader in airport and aviation planning, has selected Yilin Li, a graduate student in the community planning program in the University of Cincinnati (UC) College of Design, Architecture, Art, and Planning (DAAP), as the 2015-16 Jeffrey N. Thomas "In the Arena" Scholarship recipient.
A native of Hong Kong, Li says she first discovered her passion for aviation when Hong Kong media giant TVB produced a Chinese drama called, "Triumph in the Skies." The TV drama showcased the life of pilots, flight attendants, ground crew, and other aspects of life in the newly built Hong Kong International Airport.
"As a child, seeing the 'behind the curtain' scenes at the new Hong Kong International Airport really fascinated me, and that I started to dream about myself being part of such a complex system," says Li.
Her dreams eventually led her to DAAP, and a co-op position at L&B.
President and COO Mark Perryman says L&B has been fortunate to have Li as a co-op since 2014, and the scholarship is a testament to her exceptional work. Her team members couldn't agree more.
"Yilin is hardworking, diligent, and possesses superior graphic and analytical skills. We continually count on Yilin to provide support on a variety of complex terminal planning projects. In each instance, we are able to entrust her with ever-increasing responsibility and independence. Yilin regularly goes the extra mile to refine her work such that it exceeds client and co-worker expectations," says Senior Consultant Logan Smith.
Li has always had a particular interest in developing customized terminal space layouts. She explains, "In my experiences as a passenger, I have found the layout and design of the airport terminals to have a very strong influence on the airport's culture and economic impact of the city. I believe that the arrangement of an airport is critical because it is the visitor's first impression of the city and region."
Li adds, "I am very fortunate to have this opportunity. This is my first step behind the secured doors. Having been with the company for 14 months now, I have learned many aspects of designing airports, and developed many skills toward realizing my dream."
"The scholarship is truly the greatest gift for this Christmas! It is the recognition of my childhood passion in airports and a ticket to my future career in aviation planning," says Li.
About L&B:
L&B is the oldest and most innovative privately owned consultancy dedicated solely to the needs of the commercial aviation community, focusing on solutions for the world's busiest and most challenging airports. Our focus on the highly specialized issues of the global aviation industry provides our clients with a level of expertise and vision that cannot be matched. Through experience and innovation, our ideas are shaping the future of aviation.