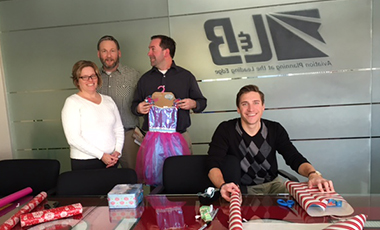 L&B's Chicago office wraps holiday presents for underprivileged children.
Since 1998, Landrum & Brown (L&B), a global leader in aviation planning, has been spreading holiday cheer to the underprivileged in Chicago's inner-city schools on behalf of its clients.
The tradition began when Doug Goldberg, Executive Vice President – Global Strategic Projects Director and Region Lead of Chicago, became inspired by a Sky magazine article titled "Operation Santa."
For each child, necessities like coats and gloves, as well as toys and games are purchased. Goldberg says that the entire Chicago office gets engaged in this tradition – buying gifts, wrapping them and delivering them to disadvantaged elementary schools. This year, the Richard J. Daley Academy was selected to be the recipient.
"It is so heartwarming to see how much this helps us all get into the spirit of the season – we all feel good about giving back to our community," says Goldberg.
About L&B:
L&B is the oldest and most innovative privately owned consultancy dedicated solely to the needs of the commercial aviation community, focusing on solutions for the world's busiest and most challenging airports. Our focus on the highly specialized issues of the global aviation industry provides our clients with a level of expertise and vision that cannot be matched. Through experience and innovation, our ideas are shaping the future of aviation.
Contact:
Doug Goldberg, Executive Vice President – Global Strategic Projects Director & Region Lead – Chicago
C: +1 773.628.2929
E: DGoldberg@landrum-brown.com
8755 West Higgins Road, Suite 850
Chicago, IL 60631