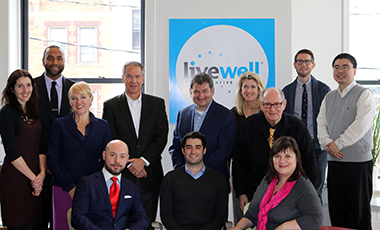 First Row: Gjoko Muratovski, UC DAAP; Alberto de Icaza; Cynthia Vandewall, Boeing; Second Row: Melanie Cannon, L&B; Nicholas Stafford, UC Foundation; Gigi Escoe, UC; Brian Reed, L&B; Mark Perryman, L&B; Linda Dunseath, Live Well Collaborative; Craig Vogel, UC DAAP; Blake Lane, Live Well Collaborative; Ming Tang, UC DAAP
Landrum & Brown (L&B), the global leader in aviation planning and development, has selected Alberto de Icaza, a graduate student in the Master of Design program at the University of Cincinnati (UC) College of Design, Architecture, Art, and Planning (DAAP), as the 2016-17 Jeffrey N. Thomas "In the Arena" Scholarship recipient.
L&B established the scholarship in 2013 to mark the 45th anniversary of Jeffrey Thomas, CEO of L&B and an alumnus of UC, and to support students interested in a career in the aviation industry.
De Icaza, a native of Querétaro, Mexico, holds a Bachelor of Science in Industrial Design from the EDA Instituto Tecnológico de Monterrey. His undergraduate mechanical engineering classes, which led to an internship with General Electric (GE) on the generators and steam turbines team, first sparked his interest in the aviation industry.
"Most of the turbines I worked with were originated in GE Aviation which gave me a new sense of the scale and outreach of the aviation industry. However, I realized my interest lay not in the engineering, but on the complex human mobilization phenomena that comes to life through it, powered by our ability to hold this incredible machine in the air," says de Icaza.
Prior to coming to Cincinnati, he also worked part-time as a carrier for an international package delivery company. This gave him a new perspective on air travel and the desire to improve the passenger experience.
"I got to fly around Mexico and the U.S., spending countless hours on airports going through check-in's, clearing customs, waiting on gates. It was so different from leisure travelling, even exhausting. But the whole experience gave me a new understanding of how airports work and the nuances of flying. My designer's consciousness was woken to all the opportunity areas in the services and overall experience on airports and planes," says de Icaza.
De Icaza says he felt humbled at the recent scholarship luncheon held at the Live Well Collaborative, a non-profit organization where industry leaders and UC students and faculty form multidisciplinary teams to develop innovative solutions for design projects.
"I don't think I speak for myself when thanking you for your continuing support of the students, and for encouraging the work we do at Live Well. Your generosity is greatly appreciated in its financial but also in its moral nature. I will always remember this kind gesture and how it helped me take flight in the pursuit of my education," says de Icaza.
About L&B:
L&B is the oldest and most innovative privately owned consultancy dedicated solely to the needs of the commercial aviation community, focusing on solutions for the world's busiest and most challenging airports. Our focus on the highly specialized issues of the global aviation industry provides our clients with a level of expertise and vision that cannot be matched. Through experience and innovation, our ideas are shaping the future of aviation.